hi i have this
DESCRIPTION AND OPERATION
DIAGNOSTIC SOCKET
DESCRIPTION
General
The diagnostic socket is located immediately above the passenger compartment fuse box.
The socket is constructed to SAE directive J1962 standard and allows attachment of
TestBook, or any other SAE standard diagnostic tool, to the vehicle for fault diagnosis
checks.
OPERATION
Power supplies
Fusible link 1 (C0570) of the under bonnet fuse box supplies a permanent feed to fuse 12
(C0582) of the passenger compartment fuse box on a N wire. Fuse 12 supplies the power
feed from the passenger compartment fusebox (C0585) to the diagnostic socket (C0040) on
a P wire. The diagnostic socket (C0040) is earthed on a B wire connected to an earth point
(C0564) via the passenger compartment fuse box (C0584 and C0583).
General
The diagnostic socket (C0040) is connected with the following on K wires, which make up
the ISO 9141 K line bus:
The ABS modulator (C0501).
The EPAS ECU (C0316).
The ECM (C0159).
The diagnostic socket (C0040) also communicates with:
The airbag DCU (C0256) on a YK wire.
The alarm ECU (C0061) on OU and RU wires.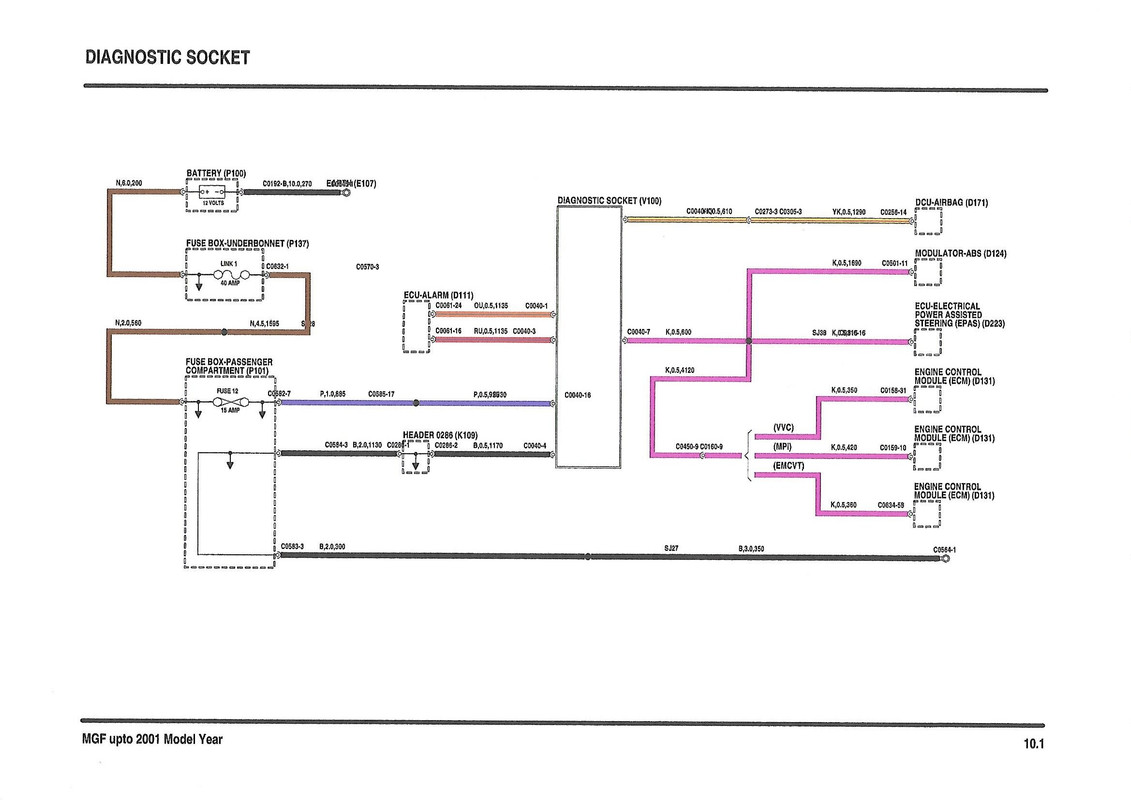 ANTI-THEFT ALARM AND CENTRAL DOOR LOCKING (CDL)
DESCRIPTION
General
The anti-theft alarm system monitors the vehicle and operates the alarm if unauthorised
entry is detected. The central door locking system provides local and remote means of
centrally locking and unlocking the doors. The anti-theft alarm system and the central door
locking system are both controlled by the alarm Electronic Control Unit (ECU) located on the
underside of the heater controls in the fascia. Active and/or passive engine immobilisation,
depending on market, is incorporated into the alarm ECU to prevent unauthorised starting
of the engine.
Anti-theft alarm system
The anti-theft alarm system operates in conjunction with the central door locking system and
is automatically armed and disarmed when the vehicle is locked and unlocked using either
the remote handset or the driver's door lock.
The main features of the system are:
Perimetric protection that monitors the status of contact switches to detect
unauthorised opening of the bonnet, doors and boot lid. This feature arms with all
methods of door locking.
Volumetric protection, where fitted, that uses a sensor, mounted under the rear
bulkhead finisher, to monitor for movement in the passenger compartment (with the
hood up or down). This feature arms only when the vehicle is locked with the remote
handset.
Engine immobilisation that prevents operation of the starter motor and fuel pump
unless the system is disarmed by the remote handset.
A red alarm Light Emitting Diode (LED) in the instrument pack.
Indicator lamp flashing to provide visual confirmation of system arming and disarming.