Have been speaking to someone recently regarding what to look for when buying a Libra or Spyder and it's always the same things that come up, so I thought it would make sense to put a post here... I'll list what I can think of and anyone can add to it.
Not going to go into much detail engine wise, as there are dedicated forums for K series and Honda information out there, so any prospective buyer is best doing their own research on specifics..
Engines
As far as I'm aware, at first the only factory options were 1.4-1.8VVC K series and everything in between, and the 2.5 KV6. Note - The KV6 tub is different with a step in the bulkhead to make space for the V6 layout, so don't go buying a 4 pot car hoping to fit the V6 unless you want to start chopping up your irreplaceable tub!!
Later a Honda B series option was thrown into the mix, and the factory offered a kit for the Honda B16A2 engine.
Both are similar in the respect that if you buy a car with a 1.4 K series, it's pretty easy to upgrade to another K series, i.e. 1.8VVC. Likewise, if you have a B16A2 Honda car, it's easy to fit a B16B or a B18C etc.. (I did this recently B16A2 to B18C6, easy peasy)
If buying a K series Libra the more desirable package is a 1.8 VVC with a PG1 box on cable gear change.
Things to bear in mind if buying a less desirable 1.4 or 1.6 with a view to fitting a 1.8VVC
- The smaller engines tend to be fitted with the R65 box. It can be used with a 1.8VVC but you'll be using the original flywheel and from memory a slightly smaller clutch. People make out like the R65 isn't strong enough but in such a lightweight car it's unlikely to be a problem and they're cheap and easy to replace. The R65 ratios are closer which makes it makes it a nice compromise.
- The R65 Starter/Smaller flywheel can be known to struggle a little starting a 1.8VVC even with a perfect battery. There is a slightly better starter available, the standard one is 0.7kW but there is a 0.8kW version. When I converted my old 1.6 to 1.8VVC many moons ago I actually found a 0.9kW starter and that completely cured the problem.
RB-STAR0002 BOSCH 106 Series
0.9KW/12V, CCW, 9-Tooth Pinion
ROVER
OE Nos: 001 106 016
- The R65 box'd cars tend to have rattle rod gear change. The issue with this is, well, they rattle, a lot. I'm not entirely sure if you can convert R65 to cable gearchange, maybe someone can chime in. But this for me was the major drawback as they did have a tendency to make some awful vibey noises under the car.
Of course you could fit a PG1 box too but that's more work, and will involve re-doing the gearchange etc.
General Spec/Running Gear
Brakes
Most favour the MGTF AP calipers and discs, they are not too expensive to retrofit nowadays, just be sure your wheels will clear them!
Shocks
Most cars will either have Protech, AVO or GAZ. I think Protech are by far the best, they won't deteriorate as badly being made from billet aluminium and are lighter, they are no more expensive than the others either. Performance, much of a muchness. Spring rates are a matter of personal preference really and cheap to change, you'll find plenty of options on the subject if you have a search on the forum.
ARBs (Anti Roll Bars)
When buying a Libra or Spyder the main thing to look for is a front ARB. They like a stiff front ARB. The rear ARB (if you can find one) is also a lot easier to retrofit at a later date. Whereas the front one involves taking the whole front cowling off the car to fit, so it's a definite win if the car you view has this fitted.
Steering Rack
These cars use a upside down mounted LHD metro rack and they are, for all intents and purposes, cr*p. They are glacially slow and ruin the feel of the car. Thankfully there is another option and many cars have been converted to it - the MGTF 2.7 turns to lock rack, much quicker and much more feel. These can still be bought from the likes of Mike Satur for around £150-200, but similarly to the front ARB, a bitch to fit to a complete car. So another thing to look for - some had an orange band on, although my recently bought one doesn't. Best to just count the turns to lock.
Gearchange
Already covered the rattle rods, but something to look out for on cable gearchange cars is the actual gearchange mechanism installed. The MGF one is pretty damn awful, like stirring porridge. Many have fitted elise / mike satur setups which dramatically improve the feel. I have had some luck with a focus ST170 setup too.
Aero
Some people fit aerodynamic addons, general consensus is for a road car they are not really necessary although a front splitter is not a bad idea as it helps the front end stability at speed. These cars should always be set nose down as the front can go light at speed otherwise... With this in mind I'm not entirely sure why anyone would feel the need to fit a rear wing...
Cooling
The Metro rad was used as standard, many cars have been converted to use the Passat radiator, this is a very cheap and easy upgrade so I would not be put off by a car that didn't have it, and it is only really necessary if you plan to do many trackdays or go to a much hotter climate. Other than the radiator, it is advisable with the K series to fit a remote thermostat with a bypass system, mainly to aid against thermal shock with the sheer volume of water in the system - more details can be found on the forum if you do a search.
Rear wishbones
This is important.
There have been 3 main iterations of rear wishbone. MK1 - The first was a flat plated wishbone which was mounted on individual brackets to the tub. The wishbones were mounted on ball joints which had a tendency to wear out quickly. The first set had individual brackets for each ball joint so 4 per side, later these were joined so 2 per side like the blue car below, some call this MK 1.5.
MK 2 - The next iteration was a lattice style tube wishbone, mounted on a proper bush, with cam bolts to set the caster camber. These were considered an upgrade but were rapidly revised as there were reports of them cracking where the wishbone is welded to the tube where the bush is pressed into.
MK 2.5 - The same as MK2 but with strengthening in the area of concern. There should be NO cars still using the MK2. MK1 is not the end of the world but less desirable than MK2.5, but MK2 is frankly dangerous.
2 on the left, 2.5 on the right both bottom wishbones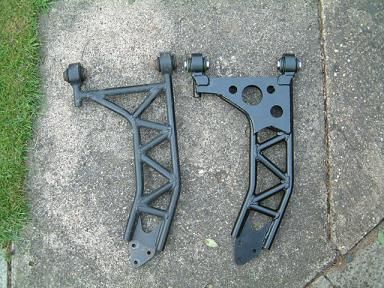 The final version (non factory) Z Cars – Some years ago a conversion was sought out by GTM owner Roger Hammond to improve the general handling of the Libra/Spyder and remedy the inherent flex in the twin trailing arm GTM set up. The Z cars setup comprised of a new mount to the bulkhead which was structurally improved by the use of a crossmember spanning across the bulkhead joining all mounts together. The Z cars kit utilised one large trailing arm per side, more like a swinging arm, rose joint mounted to the tub bracket and had an integral wheel bearing and caliper mounts etc, completely doing away with the need for the heavy cast rear uprights. This was reportedly a revelation, not cheap, but much better than any previous setup and worth paying a premium for.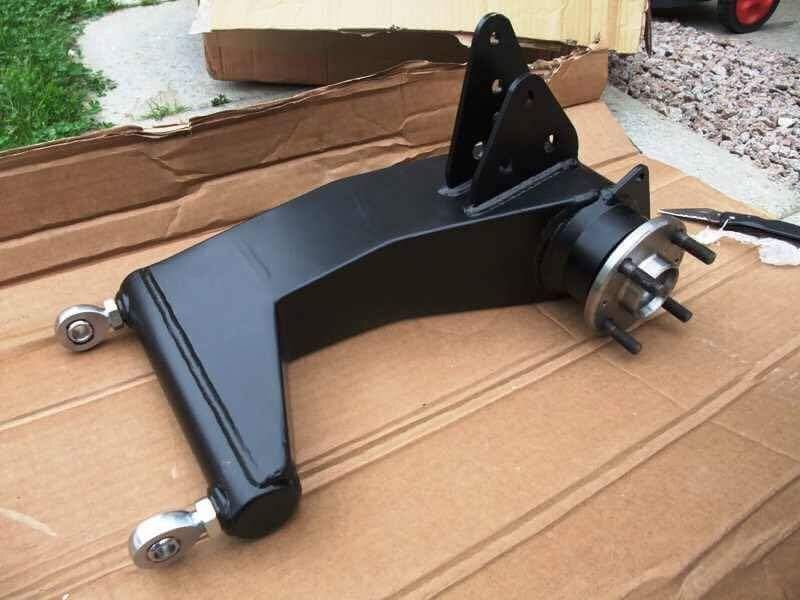 Interiors
All much of a muchness, you can make your own mind up on that one. Some cars had door cards with a handle and some just have a wire you pull. No biggie really.
Fuel tank
Some cars had an aluminium "Maxitank", although I believe this was eventually discontinued and probably not many cars out there with it fitted. Most have a metro tank. Also when you view a car don't be alarmed that the fuel gauge acts more as a cornering G force meter. They all do that sir.
Bodywork
Being fibreglass they can be prone to crazing, also the gel coat can fade which is a bit of a bummer. If this is the case and you are viewing with the intention to have a mint example, work a re spray into your budget. There were 3 styling versions of the front clam, the original Libra front, the Spyder front and the GTO front. The Libra front tends to only be found on Libras, the Spyder front and GTO front can be found on both Libras and Spyders. The GTO is effectively a Spyder front so a GTO could be converted to a Spyder and vice versa..... if you can find the bits to do so that is..!
Matter of personal preference really although I would say that the lights are better on the GTO front, the original front and Spyder version both have Perspex covers which can degrade the light output. I have a soft spot for all of them in different ways to be honest and struggle to pick a favourite, no one version is of higher value than another... unless of course you as the buyer want a particular type.
If there's anything else I can think of I'll add it later, everyone feel free to comment as necessary if there's anything I've missed.
What I would add is that the most important thing is to buy on condition. Unfortunately the standard paint finish on the wishbones, engine cradle etc etc. was very poor. Most of these cars have rusted steel parts and the only way to keep on top of it is to just keep an eye on things and attack the wishbones etc with rust prevention like wax oyl and / or paint now and then. They are not like normal cars and will deteriorate if not looked after. Things like this are much more important than miles on the clock.