---
hi, my main headlights have stopped working I have sidelights and full beam but no main sounds like the dim dip relay not working My problem (was) the Pink Relay.

Having a dim-dip system in your car that came about in the 80s in the UK, but is no longer necessary
the two settings of the headlight switch will dim the headlights on the first setting (by routing power through a resistor under the front ) and allow full power on the second.

without this feature, it would switch sidelights on with the first setting then include dipped headlights on the second. I decided I would prefer to have it that way.

I checked the fuses and bulbs first Whilst switch failure may be a lot of people's' experience, the unnecessary Relay does just as much work as the switches, its easy to access and test, and does not necessitate stripping the steering column. Fuse / Relay failure is pretty easy to check/confirm a dodgy switch not so much.

To test to see if the Relay is at fault remove RELAY YWC10050 the Pink Relay.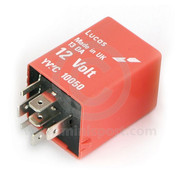 jumper the legs 2 and 8 in the fuse box – if your lights now work, the fault is probably the Relay – if nothing changes, chances are it's not the Relay.

If it is the Relay, you might be able to repair it, if not you can replace it, however, it is no longer a legal requirement – if you want you can replace it with a new one which will cost from £30 – up or replace it with a Lucas alternative Relay YWZ10003 Dim Dip replacement which has just two legs jumpered together in side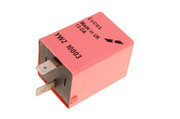 you can jumper it out yourself by Bypassing the 2 and 8 pins in the fuse box with a wire, and two spade connectors for each end. or by modifying the original relay to connect legs 2 an 8 and throwing everything else away.

The dim-dip relay case can be removed to reveal the circuit board
desolders all the parts and remove which leaves holes in the bord through which we can add a wire. just find the right one which goes to pin 2 and 8 you can cut all the over blade connectors of but I did not

I now have working headlights

Disclaimer:
Due to factors beyond my the control, I cannot guarantee against unauthorized modifications or improper use of this information
I assume no liability for property damage or injury incurred as a result of any of the information contained in this
I recommend safe practices when working with
Auto Electrics